Source : News18Network
Rahul Gandhi's 68% twitter follower's are fake and Narendra Modi has 61% fake Followers . A Twitter-Audit report claimed using its own methodology.
After reports surfaced that some of the top Indian politicians including Prime Minister Narendra Modi and Congress Party President Rahul Gandhi's Twitter accounts are infested with fake followers, the micro-blogging platform on Wednesday termed such reports as baseless.
A recent "Twitter Audit" report claimed that Modi, Gandhi, BJP President Amit Shah and others lead the list of leaders with fake followers globally.
According to a statement given to IANS, Twitter said the "Twitter Audit" fake follower measurement tool is not the company's product.
"The methodology used by 'Twitter Audit' is deeply flawed and their incorrect information should not be taken seriously," a Twitter spokesperson told IANS. The media reports are completely incorrect and do not have any source or authentic veracity of the information, the company said.
Twitter Audit is an external tool not affiliated to the micro-blogging website.
It takes a sample of 5,000 Twitter followers and assesses them on the number of tweets, followers, mutual followers and other parameters.
According to its website, "the scoring method is not perfect but it is a good way to tell if someone with lots of followers is likely to have increased their follower count by inorganic, fraudulent, or dishonest means".
According to Twitter Audit, Rahul has the highest percentage of fake Twitter followers at 67 per cent, followed by Shah, Congress leader Shashi Tharoor and Modi.
In Modi's case, Twitter Audit claimed 61 per cent of his followers are fake. Modi has 41 million followers.
A recent Twitter Audit report has revealed that President Donald Trump, Prime Minister Narendra Modi and Pope Francis leads the list of leaders with fake followers globally. The fake follower ratio is determined by Twitter Audit's algorithm, which factors in number of tweets, date of the last tweet and ratios of followers to friends.
In India, the official Twitter handle of Rahul Gandhi (@OfficeofRG) had the most fake follower ratio with only 32 percent real following out of the total count of 6.2 million. Recently, BJP president Amit Shah made headlines as the second most followed leader in India on social media (both Facebook and Twitter) after Prime Minister Narendra Modi. As per the Twitter Audit report, Amit Shah also has the second most fake follower percentage on Twitter after Rahul Gandhi. The report said 67 percent of Twitter followers of Amit Shah are fake.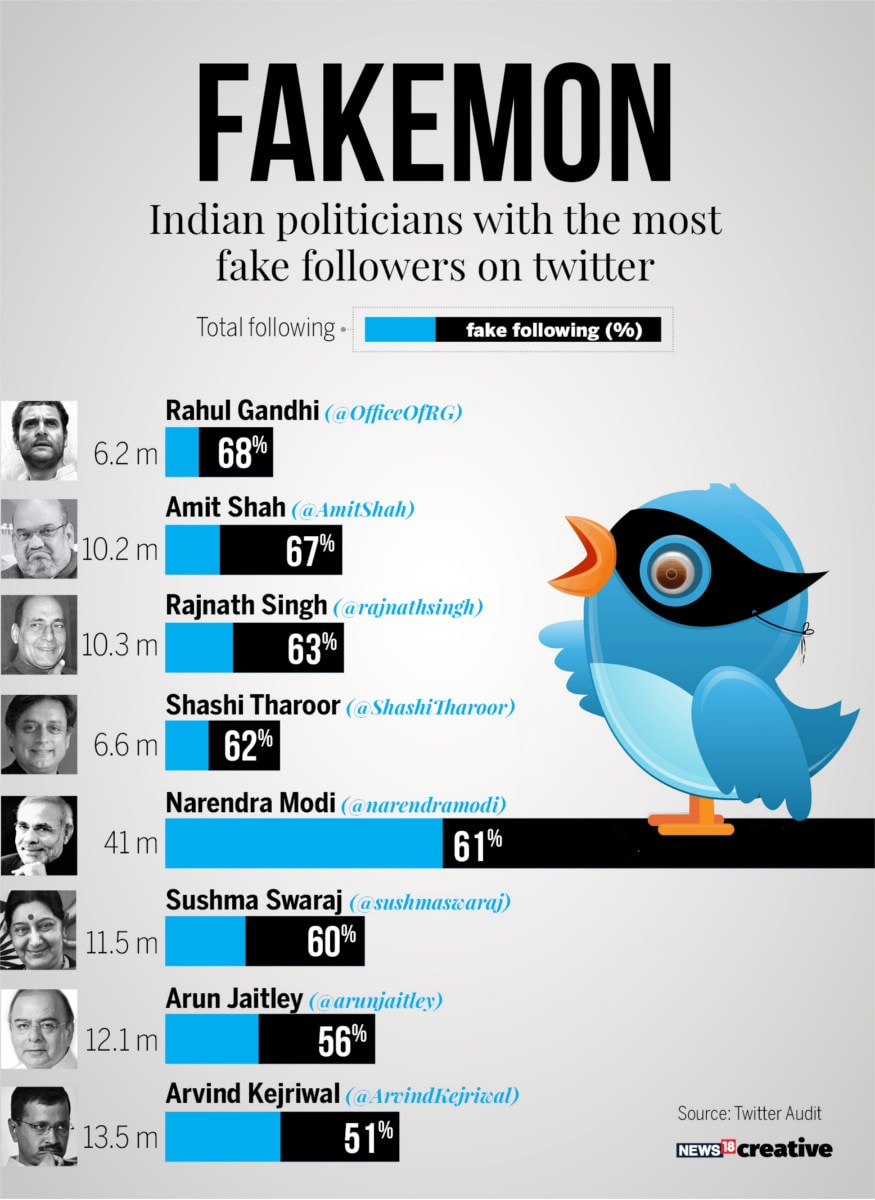 BJP's Rajnath Singh stand third in the list of Indian politicians with most fake follower ratio on Twitter. The report revealed that only 37 percent of Rajnath Singh's 10.3 million followers are real. Next in line is Shashi Tharoor with 62 percent fake Twitter followers out of 6.6 million.
Prime Minister Narendra Modi is the most followed politician on Twitter in India with a count of 41 million followers. However, the audit said that 61 percent followers are fake. Out of the 11.5 million followers of Sushma Swaraj and 12.1 million followers of Arun Jaitley, 60 percent and 56 percent are fake respectively. AAP chief Arvind Kejriwal has 51 percent fake followers out of a total of 13.5 million.