By Tasmayee Laha Roy  Source : Exchange4media
Government ads in print are looking at a complete overhaul. The Print Media Advertisement Policy 2020, targeted at securing the widest possible coverage for government ads, can be a blessing in disguise for Indian language dailies.
"The new guidelines are all the way beneficial to the Indian language Print Media as allocation in terms of ad space has been increased to 80% from the earlier allocation of 50%. Besides, print is likely to get many other indirect benefits," said an industry insider from a leading Indian language daily.
If market overviews are anything to go by, while English dailies often charged government bodies premium ad rates, the vernacular dailies had to strictly adhere to the DAVP rates. Among other objectives, the new policy targets balanced distribution of advertisements in print.
The draft policy, to be effective from August 1, 2020, clearly states that the Bureau of Outreach and Communication (BOC) will endeavour to maintain a balance between various categories of newspapers taking into account factors like circulation, language, coverage area and target readership while releasing display advertisements. In case of distribution of ads, the ceilings earlier were 'in terms of rupees'. It now is in terms of space, thus clearly giving an edge to the Indian language dailies.
For this purpose, the distribution of advertisements, among small, medium and big newspapers will be in terms of space (in sqcm). While the ceiling for small newspapers will be at 15%, it will be 35% for medium and 50% for the big ones.
As per the revision, the distribution of government advertisements among newspapers of various languages (in terms of space) will be 20% for English and 80% for Indian languages.
Last year, MIB announced a 25% hike in print media advertisement rates, with the revision prior to that being in 2013.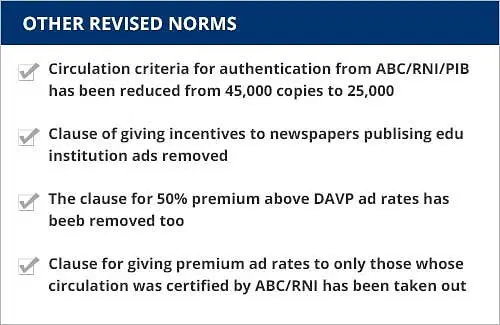 Moving on from ad rates and allocation, the circulation criteria for authentication from ABC/RNI/PIB has been reduced from 45,000 copies to 25,000.
Initially, DAVP could incentivize big category newspapers that were willing to publish advertisements of educational institutions at DAVP rates by giving additional business of 50% in volume terms as compared to those which are not willing to accept. A separate list of newspapers willing to publish such ads will be prepared by DAVP and those would be incentivized. This clause has been removed from the new policy.
Also, DAVP paid a premium of 50% above its rates, as applicable for colour/ Black & White, for front page, 20% premium to third page, 10% premium to the fifth page and 30% premium for back page to only those newspapers whose circulation was certified by ABC/RNI. This clause has also been removed.
However, not all newspapers are happy. Some industry heads find the new policy complicated. "Indian Newspaper Society (INS) will take up with the ministry as we have found a lot of anomalies. There should be a dialogue with the industry before laying down guidelines that affect the business," said Varghese Chandy, VP, Marketing, Advertising Sales, Malayala Manorama.
The draft policy mentions that the Print Media Advertisement Policy guidelines shall supersede all the earlier policy guidelines/internal guidelines of the BOC.
(Inputs from Simran Sabherwal)
Original Link to this article: https://www.exchange4media.com/media-print-news/will-vernacular-newspapers-gain-from-revisions-in-govt-print-ad-policy-106454.html